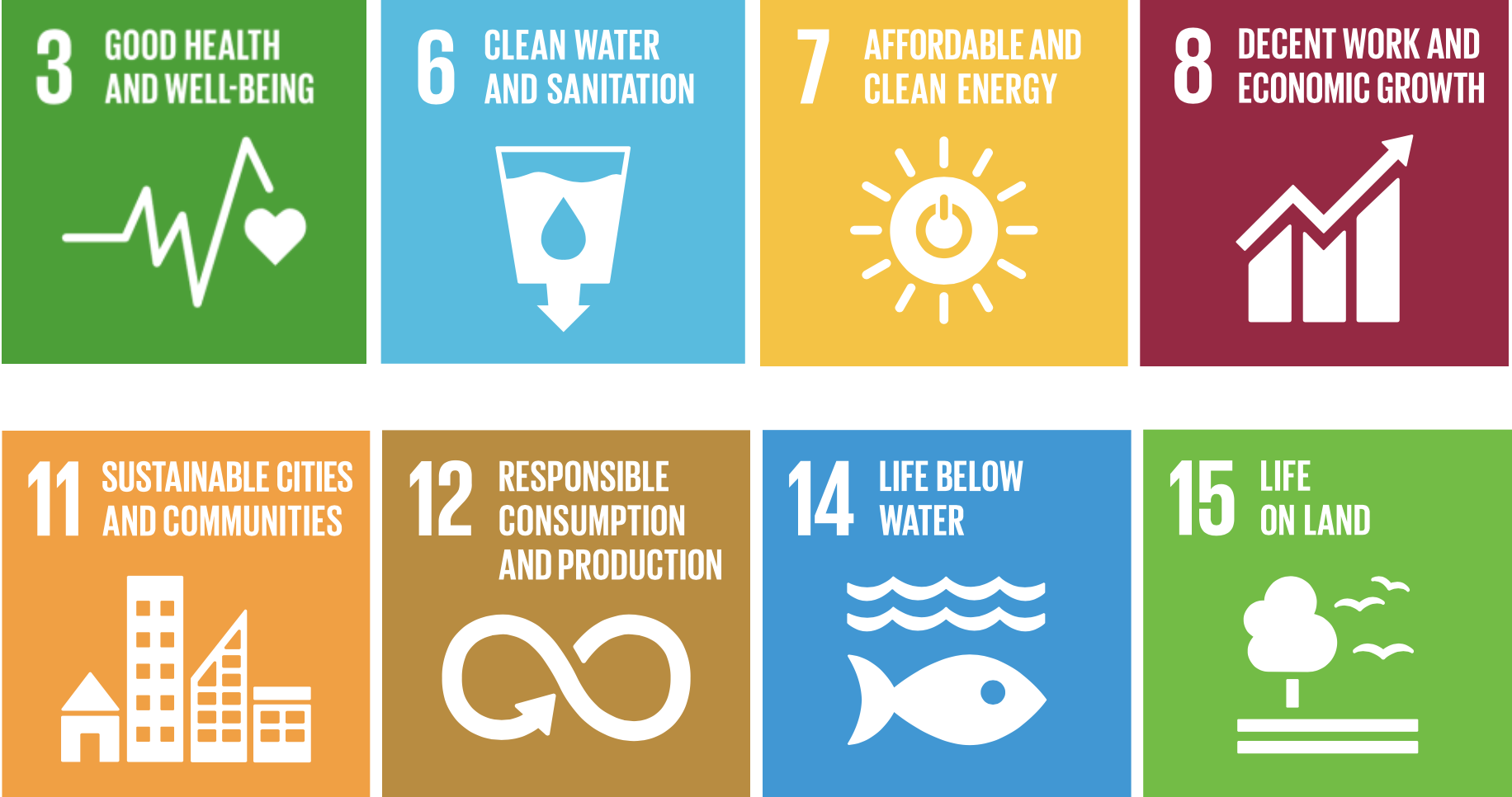 Sustainable Development Goals
The sustainability agenda is becoming increasingly important for society, the authorities and our members.
Danish potted plant producers, who already contribute to several of the UN's Sustainable Development Goals, are therefore very familiar with the agenda.
Read about how the Danish potted plant producers are already working with, and continuing to develop their efforts towards, the UN's 17 Sustainable Development Goals.
On this page, we have created an overview of 8 Sustainable Development Goals, as well as relevant targets. These are the goals that potted plant producers in Denmark can typically contribute to and are already working towards.
Goal no. 3: Ensure a healthy life and promote well-being for everyone of all ages
Relevant target: 3.9: Reduce illness and death from chemicals and pollution
Less pollution with fewer pesticides and efficient use of environmentally friendly pesticides
Danish potted plant producers contribute to Sustainable Development Goal 3 and especially target 3.9 by minimising the use of pesticides. Concrete actions can include breeding plants so that they are more robust. It can also include the use of biological pesticides (such as beneficial animals and microorganisms) or other initiatives that ensure good handling of chemicals and pesticides.
Goal no. 6: Ensure accessible and sustainable management of water and sanitation for all
Relevant target: 6.4: Make water consumption efficient and ensure the supply of fresh water.
Efficient and sustainable use of water in production.
Even though there is no shortage of water in Denmark, water resources must still be used responsibly. One can focus on reducing water consumption in production, thus contributing to Sustainable Development Goal 6 and target 6.4. Using a closed water system minimises water consumption and ensures that nutrients and pesticides do not pollute the environment.
Goal no. 7: Create sustainable and modern energy at a decent price
Relevant targets: 7.2: Increase the global share of renewable energy and 7.3: Double energy efficiency
Green plants grown with green energy
Running a nursery requires energy. For both heat and light. Therefore, it is important that you take care of this and optimise where you can. Danish horticulture has done this on a large scale. According to Statistics Denmark, energy consumption in greenhouse horticulture almost halved from 2002 to 2017. Although the growth area has dropped as well, this is still a significant reduction.
Gardeners can help grow green plants with green energy by investing in renewable energy sources. Potted plant producers can also work to minimise energy consumption through energy management, control and efficiency. They can do this by e.g. installing energy management systems in collaboration with the Danish Energy Agency or re-insulating the greenhouses. This all contributes to Sustainable Development Goal 7.
Goal no. 8: We must promote renewable, inclusive and sustainable economic growth, full and productive employment and decent work conditions for all
Relevant targets: 8.4. Use resources efficiently in consumption and production, 8.8. Protect labour rights and promote safe working environments.
Decent jobs through a safe working environment and resource-efficient production
To ensure sustainable growth, we need to become more efficient in our use of resources. Gardeners are used to trying to minimise waste and increase efficiency because it is good for business. This must increase in the future, e.g. through collaboration with external partners or through projects such as MinimalSpild, where measuring ethylene paves the way for an even more efficient handling of plants throughout the value chain.
At the same time, all workplaces can help ensure decent work conditions for their employees. In Denmark, we have legislation to ensure proper work conditions, but nurseries can go even further to become appealing workplaces that can attract labour and allow their employees to thrive.
Goal no. 11: We must make cities, communities and settlements inclusive, safe, robust and sustainable
Relevant target: 11.7: Give everyone access to green public spaces
Green areas make cities sustainable
Nurseries can consider how their products actively contribute to society e.g. by supplying plants for the development of green areas in cities. This helps modern cities become more inspiring and raises the quality of life for those who live there. Gardeners can also participate in projects and collaborate with other actors with their knowledge of how to establish creative and inspiring green areas.
Goal no. 12: We must ensure sustainable consumption and production
Relevant targets: 12.5: Significantly reduce the amount of waste
Increase the proportion of recycled waste with a focus on plastic
Today, almost a third of all waste in Denmark is incinerated. In the case of plastic, that figure is around 90%. Instead, these resources could be used again. Therefore, politicians have decided that we must significantly reduce the amount of waste by 2030. This means that nurseries' efforts to recycle resources and minimise and manage waste will become very important in the coming years.
Today, there is an increased focus on the plastic in the pots used in Danish horticulture and sold at retail level. The agricultural sector, including nurseries, must sort 50% of the plastic for recycling in 2025, with this figure rising to 80% in 2030. Nurseries in Denmark are already working to ensure that all pots are collected and recycled, so by focusing on this, nurseries can help to achieve these goals.
Goal no. 14: We must preserve and ensure the sustainable use of the world's oceans and their resources
Relevant targets: 14.1: Reduce marine pollution.
Closed irrigation systems protect against marine pollution
In Denmark, we are surrounded by water. Nurseries have a shared responsibility when it comes to pollution with nutrients and pesticides, which can end up in the sea. Potted plant producers can help prevent this, e.g. with recirculating closed circuits for irrigation, changed strategies for the use of pesticides, spraying techniques and closed greenhouses, thus avoiding discharge to watercourses that will end up in the oceans. Although these may seem like small measures for individual nurseries to take, it is of great importance that everyone contributes to reducing pollution.
Goal no. 15: We must protect, restore and promote the sustainable use of terrestrial ecosystems, manage forests sustainably, combat desertification, and halt and reverse land degradation and biodiversity loss
Relevant targets: 15.2: Stop deforestation and restore damaged forests, 15.8: Limit invasive species
The sector can contribute to the sound management of nature
Nurseries can contribute to the sustainable management of forests. By collaborating with forest managers and contributing plants and expertise, they can help ensure better forests for the benefit of biodiversity and wildlife.
At the same time, nurseries must also be aware of the impact of invasive plants on Danish nature. We must minimize the occurrence of these or ensure that they are handled in a responsible manner to avoid any harmful effects on our ecosystems.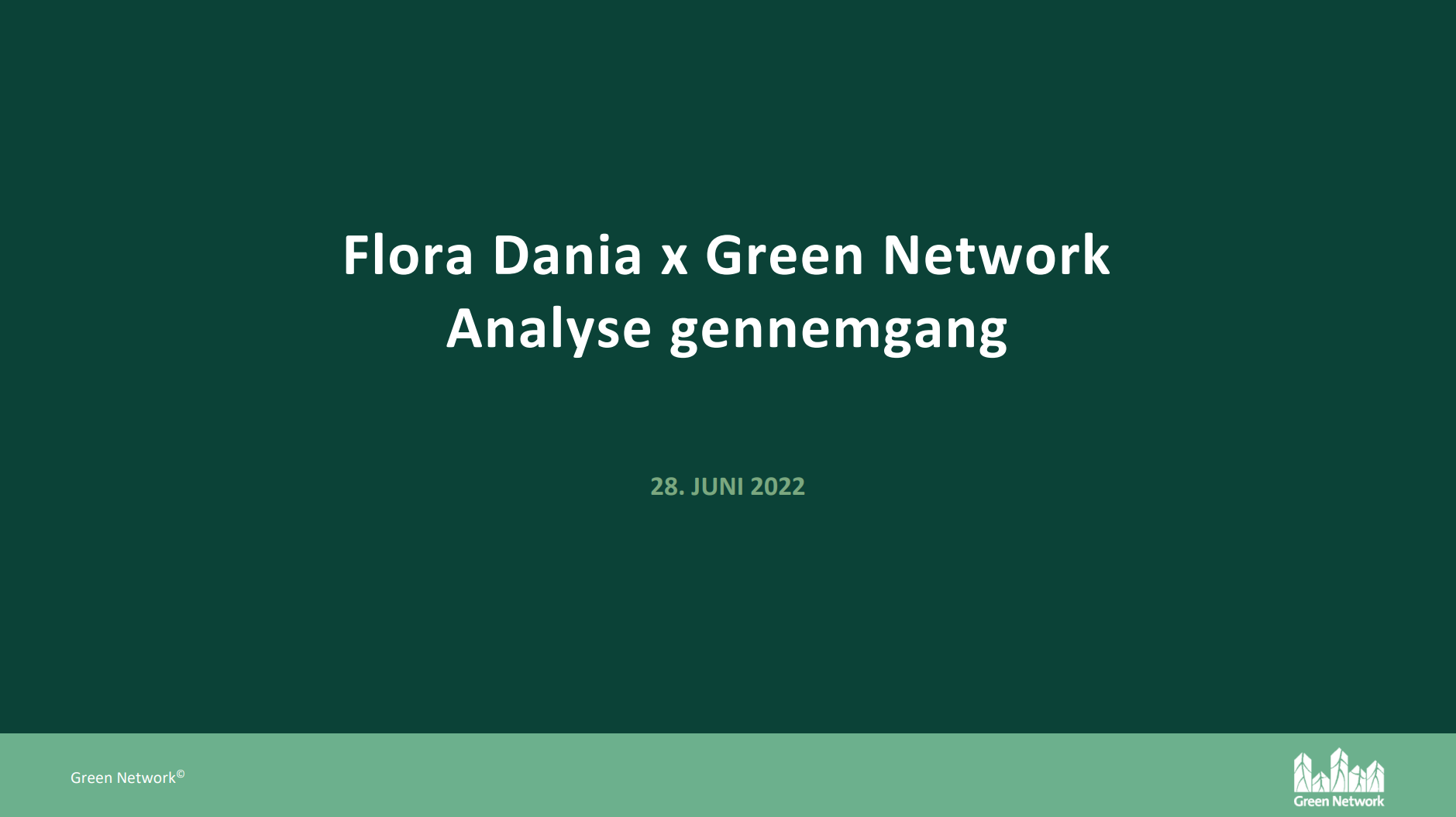 Flora Dania X Green Network
CSR-analysis and -strategy
In 2022, Flora Dania in collaboration with Green Network prepared an analysis of the Danish nursery's CSR profile as well as a strategy for further work with Social Corporate Responsibility.
Download both here (In Danish).